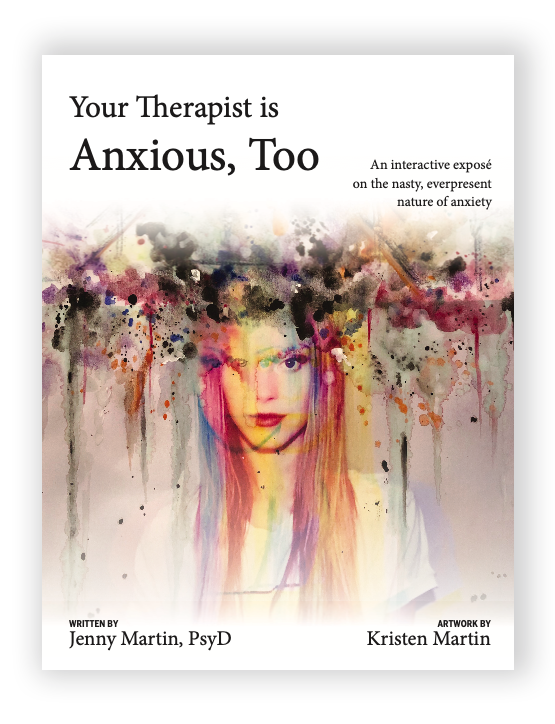 Your Therapist is Anxious, Too!
Written by Jenny Martin, PsyD
Artwork by Kristen Martin
Each chapter of this colorful, approachable book focuses on one specific aspect of anxiety management. Unlike other anxiety workbooks that simply aim to reduce symptoms, Your Therapist Is Anxious, Too, first works to explain and normalize how common it is to feel. Using techniques such as cognitive organization, breath exercises and inner child work, readers will both learn and apply better coping techniques while also developing deeper understanding and compassion for the complexity of human emotions.
Anxiety is Here to Stay. Let's Learn How to Deal.
An Interactive Exposé on the Nasty, Ever-Present Nature of Anxiety
---
In collaboration with her broadway-actor sister, Kristen, Gemstone Wellness' founder, Dr. Martin, created this project aimed at destigmatizing conversations around mental health. Inspired by Kristen's brilliant watercolor paintings which are integrated throughout the book, Dr. Martin works to break down and normalize the universal facets of anxiety while offering tools to better understand and address them.
In this informational yet highly enjoyable workbook, readers will be challenged to explore the root system of their own personal anxieties. Using elements of psychological savviness, humor, and creative expression, this art-laden workbook provides both psychoeducation and hands-on experience to help readers achieve deeper personal insight and sharper anxiety management tools.
A portion of proceeds will be donated to suicide prevention efforts.
About the Creators
Jenny and Kristen Martin are sisters originally from Owosso, Mi. Professionally, the years have taken them on different paths, but they have both solidified a dedication to mental health awareness and destigmatization.  Having both been touched by periods of depression and anxiety, they understand the complexities and challenges these struggles present and wish to share their stories and assist others in sharing theirs.
Kristen, a Broadway actress with credits including Spiderman: Turn Off The Dark and Wicked, is an east coast based professional actress with a passion for art and painting. Their collaboration began when Kristen sent a picture of a painting she had done to her psychologist sister, Jenny. The piece was a self-portrait Kristen had made during a period of her own struggles with anxiety. Jenny was moved and inspired by the relatability and beauty of the piece, and together the sisters decided to create a workbook based off of Kristen's "brain self-portrait." Today, that same self-portrait is the cover of their book.  If you relate to it, this book is for you!
Buy Now

---
What People Are Saying
---
---
"Your therapist may be anxious, too, but if her name is Dr. Jenny Martin, you're in luck. Her delightful, highly useful book delivers essential information and advice on controlling anxiety with the easy, breezy intimacy of your best friend. The illustrations by her actor-sister Kristen are a feast for the soul."
—Ron Powers, Emmy Award and Pulitzer Prize Winning Author
---
---
---
---
---